Here's a special talent profile from someone passionate about the industry and also seeking a new opportunity in the waste/recycling/organics industry as of the time of this writing. Read below to learn about companies helping save food from ending up in landfills...from our trash pal, Sarah.
Here's the problem
In today's world, food waste has become a major concern. According to the United Nations Food and Agriculture Organization (FAO), 1/3 of all food produced globally is wasted every year. This is not only a moral issue, but it also has significant environmental and economic impacts. But unlike most climate change issues that feel so mammoth it's hard to even comprehend, food waste is something you and your community can change.
Environmental Impact of Food Waste
Food waste has a significant environmental impact. What we don't always think about is that when food is wasted, all the resources that went into producing it are also wasted. This includes water, energy, labor, and land. Additionally, when food is sent to landfills, it produces methane, a potent greenhouse gas that contributes to climate change. According to the EPA, One pound of methane traps 25 times more heat in the atmosphere than a pound of carbon dioxide. By reducing food waste, we can reduce our carbon footprint and help mitigate the effects of climate change.
Economic Impact of Food Waste
Food waste also has a significant economic impact. When food is wasted, it represents a loss of resources and money. In the United States alone, it is estimated that $218 billion is spent every year on food that is never eaten. Additionally, when food is wasted, it increases the cost of food for everyone. By reducing food waste, we can save money and make food more affordable for everyone.
Organizations that are a mission
Wherever you're located, or if you want to stay remote, you can help by learning more, donating, sharing, or volunteering with one of these awesome organizations. If you don't see an organization near you or one that sparks your interest, look at your local soup kitchens, churches, and shelters. Or become a leader in your community by starting a chapter in your neighborhood.
Feeding America (United States)
One of the most reputable nonprofits tackling hunger in the U.S. is also an excellent resource for data. I mention this well known organization because they are associated with nearly every state in the U.S. and are easy to work with, here's a link to start a food drive in your community.
Food Recovery Network (United States)
The student-led organization started in 2011 at UMD and now has over 75 chapters in almost every U.S. state and over 4,000 students running food recovery efforts. If you are a college student see if your university has Food Recovery Network (FRN) and if they don't you can start your own chapter! The organization has saved over 12 million lbs. of food from going to waste since its inception. We Don't Waste also does an excellent job on reporting and research which helps all nonprofits in the food field. Check out all of their annual reports on their site for a transparent look inside a successful nonprofit.
We Don't Waste (Denver, CO)
Another amazing nonprofit based out of Denver, Colorado. We Don't Waste is a food recovery and distribution hub for all safe, consumable, and unused foods! This includes a wide variety of foods, including produce, meats, dairy, shelf-stable products, baked goods, desserts, prepared foods, frozen foods, snacks, beverages, bottled water, and vegan products. Imperfect items (dependent on the item), items out of code, mislabeled items, damaged items or pallets, bulk items (dependent on the item), and overages/excess items are all acceptable as well.
Kanbe's Markets (Kansas City, MO)
This nonprofit is on a mission to end food insecurity in Kansas City's redlined areas to ensure that everyone has access to fresh and affordable food. They install coolers into food desert areas- spots that people in the neighborhood frequent such as gas stations, corner stores, liquor stores, and coffee shops. Kanbe's is different from other food access nonprofits because it meets the community members where they are at, not a whole new fancy grocery store but simply an access point. The produce is sold at a reduced rate so that is comparable to your typical gas station items. Kanbe's is able to sell the produce at a reduced rate because of their food redirection program that collects 'market pallets' from local produce distribution warehouses. This program has reduced over 1 million lbs. in the past two years and are their way to doing a whole lot more.
Boston Area Gleaning (Boston, MA)
As one of the first farm gleaning organizations to emerge in New England during the early 2000's, Boston Area Gleaning has grown to become the largest gleaning organization in the northeast. If you're in the Boston area and want to get involved there are multiple volunteer opportunities and other ways to support their mission like joining their seedling sale to benefit the gleaning operation.
FoodCycle LA (Los Angeles, CA)
This California based nonprofit has a plethora of programs that reduce food waste and feed food insecure individuals in the greater Los Angeles area. They recover and divert surplus food to communities experiencing food insecurity. They also partner with numerous food retailers to reroute surplus food away from landfills to organizations working to feed hungry people. If you're interested in getting involved there are lots of opportunities on their website.
Move for Hunger (U.S. & Canada)
Moving soon? Move for Hunger will find a mover who will volunteer to deliver your non-perishable food to your local food bank at no additional cost. Move For Hunger has helped transport 32,732,880 lbs. of food to food banks in the U.S. and Canada. As someone who has moved four times in the past three years, I wish I knew about this organization, it's so convenient and it's one less thing to worry about on moving day. Visit their site, type in your zip code and see what moving companies work with Move for Hunger, and the volunteer handles the rest.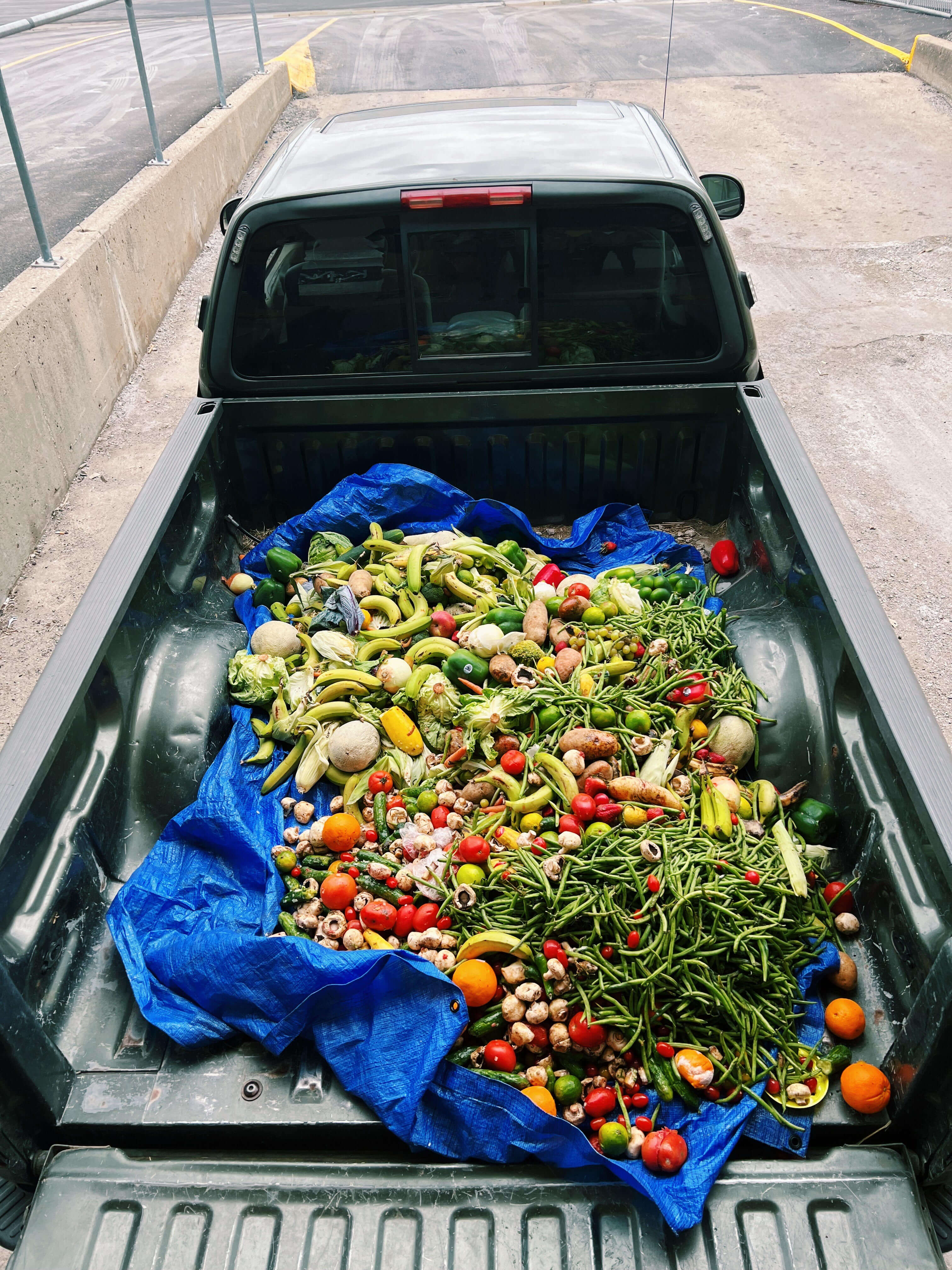 Apps
Too Good to Go (International)
Okay, what about cooked food? hot meals? creative masterpieces? This is all food waste as well, and there are some pretty amazing apps out there that can help you save food waste, support local business, and allow you to buy amazing food for a fraction of the usual price. Too Good to Go is an app that has close to 9,600 restaurants, bakeries, and businesses using their platform to sell their surplus food. Open the app and search for 'Surprise Bags' of food from restaurants and shops near you. To date, Too Good to Go has 4.1 million users and has sold 5 million bags of food. I highly suggest downloading the app to see if there's Too Good to Go businesses near you.
Flashfood (U.S. & Canada)
Have you ever been at the grocery store and wonder how the shelves are always so stoked? Some of the food must not get sold, right? It doesn't, in-fact an alarming amount of food goes straight from supermarkets to landfills. Flashfood is an app that is reducing supermarket food waste all over Canada and parts of the U.S.. Download the app to see what stores have a Flashfood cooler and pick what items you want to buy! Food placed in the cooler is close to expiration and is sold at a reduced rate, helping reduce food waste, while also allowing people to buy fresh food at a more affordable rate.
There's plenty we can do as individuals to reduce food waste- meal plans, proper storage, and composting. But if you're looking to have a bigger impact on food waste, check out one of the nonprofits above or download one of the apps! There are so many amazing organizations out there that are doing great work for our community, economy, and environment!
Have an organization in mind that we didn't mention? Let us know in the comments, we'd love to expand our list!
The Bill Emerson Good Samaritan Food Donation Act allows FRN volunteers to recover surplus food across the country. Signed into law by President Clinton on October 1, 1996, the law protects businesses from civil and criminal liability when donating unserved, surplus food or grocery products to 501(c)(3) nonprofits in good faith.
Sarah Mayerhofer has 5+ years in the sustainability field, her areas of expertise include food waste, food insecurity, methane gas reduction and reporting, and fast fashion. Her call to sustainability came during a trip to the Amazon rainforest in 2016. She knew after living with an indigenous tribe and learning from their wisdom that she was called to an environmental career.